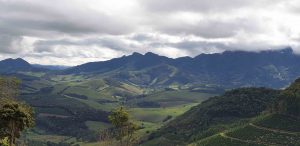 Herkunft der Leticia
Farmer: Edimar Miranda
Region: Minas Gerais, Matas Region
Village: Estouros
City: Araponga
Altitude: 1300-1350 Meters
Coffee Variety: Red Catuaí 44
Processing methods: Natural, Pulped Natural
Yearly Coffee production: 100 bags
Hectar: 8 ha
History:
Edimar has started to work in his father's and uncle's coffee plantation at the age of 12. In mid 1980s he has inherited a piece of land from his grandmother Vicência Duarte and started his journey into coffee business with his wife and his two children. Since 2014 he has improved the quality of his coffees, participating in local and regional competitions with great results. He now continues to make great quality coffees as for 2019 it was the first time his coffees have been exported to Europe. As from next harvest (2020) he will push to more selective harvest and higher quality coffees. Edimar is like a local chief so to say, as he has many friends among the farmers who follow his footsteps. He was very proud to see his name on the written on a coffee bag for the first time after working in coffee business for 40 years.
Coffee processing system: The harvest is hand-picked, after the picking, the cherries are washed dried. As from 2020, suspended beds will be used for the drying process. As he pursues to produce higher, cleaner quality coffees. After drying, the coffee is taken to wooden bins for a period of at least 30-40 days to rest.
Future:
Edimar is a leader who always searches for better ways of helping his farmer friends and from 2020 he has a major investment as for washing coffees, pulping coffees, sorting coffees and building 400m2 of suspended beds for drying. He wishes that he will have enough support to invest more and more into his farm.